Archery courses for beginners
We regret that our waiting list for our Beginners' Courses is currently full, and likely to remain so well into 2022. It is therefore closed. We will amend this page when we are able to accept further potential archers.
Old Basing Archers typically run several ArcheryGB approved beginners' courses each year, usually two in the spring and one in the autumn.
All archery equipment is included in courses, which use recurve bows, the style of bows used in the Olympics. All you need to do is dress for the weather and wear closed-toe footwear.
Juniors between the age of 11 and 16 are required to have a parent or guardian present at all times. We regret that the club cannot accommodate juniors under 11 on our courses.
Our courses are run at our outdoor range on the Old Basing Recreation Ground in Old Basing near to Basingstoke.
We hope that participants of these courses will then decide to join Old Basing Archers.  Course participants who join the Club for a short time may continue to use OBA equipment until they are ready to invest in their own kit, as we strongly advise against buying your own bows or arrows until you have been shooting for several weeks – it is easy to buy the wrong thing or spend money on something you will outgrow very quickly.
The cost for these courses is £60 per person (a £20 deposit is required on booking). For more information, or to enquire about attending an archery training course, email the Beginners' Co-ordinator on our contact page "link to contact page".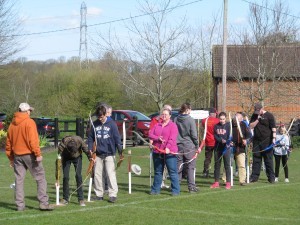 Photos from our courses
Coaching
Coaching for members can be arranged at any time directly with one of the club coaches.
Returning to archery or moving from another Club
We are always pleased to welcome archers with previous experience. If you have you been an archer previously, or attended a beginners' course at another club, contact the Club Secretary for membership details and to arrange a free assessment.